Game developer Bungie announced on Wednesday that it is reviving Marathon, a video game that the company first released on the Mac nearly 30 years ago. The game won't have a single-player story like the original; instead, its focus is as a PvP shooter where "players inhabit the bodies of Runners, cybernetic mercenaries who have been designed to survive [Tau Ceti's] harsh environments, exploring the lost colony that once inhabited Tau Ceti's surface."
The new Marathon doesn't have an official release date. Bungie did release a promotional video–it doesn't have gameplay footage, but it sets the tone for what could be an intriguing game.
Looks cool. But you must have a PC, PlayStation, or Xbox Series X/S to play Marathon. The Mac is not on the compatibility list. That's a big letdown for me, not just because of what it says about Apple's gaming efforts, but also because of Marathon's roots and its special place in my professional history.
Me, the Mac, and Marathon
In the early part of my career as a journalist covering Apple, I was on the games beat for MacUser magazine. Back then, there was a feeling among both Apple and game developers that the Mac gaming market was burgeoning. Apple had "game evangelists" who worked specifically with game developers, and they also created and tended to a Mac gaming community. These evangelists had a passion for what they did and wore it on their sleeve–literally. They often had gear, such as a leather bomber jacket with embroidery on the back to promote the platform.
Marathon was at the heart of the excitement. I saw a demo of the original Marathon and thought it was what the Mac gaming community needed after the thrill of Spectre dissipated. Marathon became a hit and gave credence to the Mac as a gaming platform.
Most important to me are my fond memories with Marathon and the times the MacUser staff (which, at the time, also included a current Macworld columnist) would eagerly await 5 pm so we could battle each other in Marathon network death matches. MacUser's headquarters on the 18th floor of the Foster City Metro Tower would echo with the yelps, shrieks, and laughs (lots of laughs) from us virtually blasting each other to bits. Damn, it was fun.
I won't get into the whole story of Bungie and the history of Mac gaming–it's been told over and over again. But when I look back at the Mac, Marathon is a huge part of it. (I'm not the only one who thinks this.)
There's hope but reality can slap you pretty hard in the face
As for the current state of Mac gaming, well, we did a podcast about it last February and talked about how it doesn't feel like much is happening toward making the Mac a viable gaming platform. Apple says it is making an effort but, as with a lot of what Apple does nowadays, it keeps those efforts under wraps.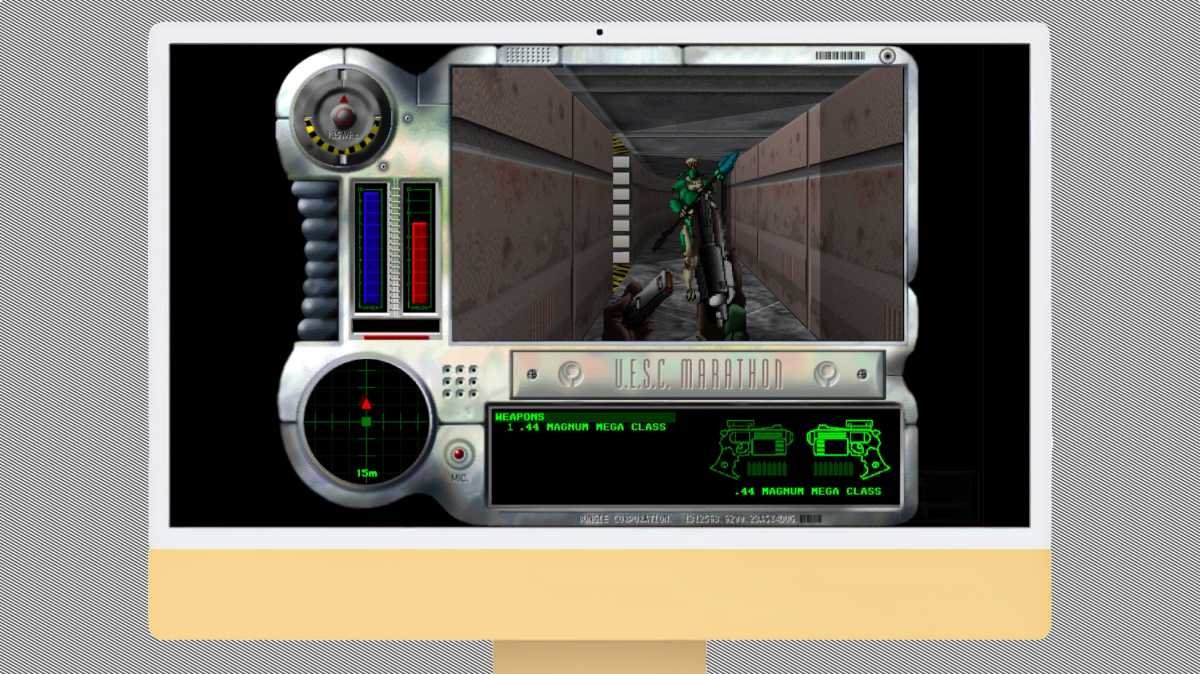 Foundry
That is, if they're really doing anything at all. The Marathon announcement is a missed opportunity–imagine the buzz that would've been created if Bungie said that Marathon was returning to its Mac roots. It would've been a huge win for Apple, the Mac, and the Mac gaming community (if it exists anymore). Maybe Apple did approach Bungie and was rebuffed. After all, the Mac stopped being on Bungie's radar a long time ago.
I suppose there's still a possibility Marathon on the Mac can happen. It would require Apple to reach out with a developmental partnership. A Mac version shipping at the same time as the other platforms would be awesome, but if you're familiar with the Mac gaming market, you probably know in your heart that this won't happen.
The introductory frame of the original Marathon has a quote that says, "Somewhere in the heavens…they are waiting." It's an ominous opening, but I'm going to twist it around here: Maybe the Mac gods are waiting for WWDC and will look down from the heavens and bless the macOS section of the upcoming WWDC keynote with a special preview of Marathon on an M-series Mac. Then I can once again revel in the memories of past Marathon death matches and look forward to future ones.
Arrival? I hope so. But one can keep the faith only for so long.
Looking to get your Mac game on? Here are a few guides to help you.