Every year there is a major update to macOS, the Mac operating system, followed by smaller updates bringing fixes and new features in the months that follow. In 2022 Apple previewed macOS Ventura at WWDC in June and then, following an extensive beta testing phase, released the final version to Mac users on Monday, October 24.
If you are yet to update to Ventura, here's what you need to know about the new features, whether Ventura will run on your Mac, and how Apple's apps including Mail and Safari have changed. We'll also discuss details of any issues and flaws people are encountering with the new software
Apple continues to develop macOS even after a major release, so throughout the months since Ventura arrived we have got regular updates bringing new features and fixes. In this article we'll let you know what the latest version of macOS Ventura is and what new features it brought. And we'll reveal what features will be coming in the next update to Ventura.
Update May 18 2023: macOS Ventura 13.4 is now available to install on compatible Macs bringing sports news related features and a number of fixes for issues and security flaws.
macOS Ventura: latest version
macOS Ventura arrived on Macs on Monday, October 24. As with previous releases, it became available for download at 10 a.m. PT.
The latest (and possibly final) version is macOS Ventura 13.4, which arrived on May 18.
The update brings a couple of new features and a number of fixes for bugs including:
A new 'multi-view' sports feature for the TV App, which gains a new Sports tab at the bottom of the screen.
A new Sports tab in Apple News as well as a My Sports score and schedule cards linking to information about specific games.
A fix for an issue where Auto Unlock with Apple Watch would not unlock a Mac.
A fix for a Bluetooth issue where keyboards connect slowly to Mac after restarting.
A fix for a VoiceOver issue relating to navigating to landmarks on webpages.
A fix for an issue where Screen Time settings reset or did not sync across all devices.
On May 2 Apple issued a Rapid Security Response update for macOS Ventura 13.3.1. Apple's new Rapid Security Response system means it can patch security vulnerabilities quickly, rather than waiting for a larger version releases that can take weeks to test. The patch was for macOS 13.3.1 (as well as iOS 16.4.1 and iPadOS 16.4.1). Apple stated that: "This Rapid Security Response provides important security fixes and is recommended for all users." The update requires the Mac to shut down and restart and is about 310MB. If you have installed this update it will show on your Mac as macOS 13.3.1 (a).
macOS Ventura 13.3.1 arrived on April 7, two weeks after macOS 13.3. That update includes bug fixes and security updates including a fix for the pushing hands emoji which did not show skin tone variations and an issue where Auto Unlock your Mac with Apple Watch might not work.
macOS 13.3 arrived on March 27, 2023. It brought 21 new emoji, updates to the Freeform app, changes to the way Photos shows duplicates, extra translation support and keyboard layouts, a fix for an issue with Trackpad gestures and more. There is also an update to the Podcasts app with an improved Up Next queue, episode filtering and the ability to browse by season. macOS 13.3 also includes a number of security fixes. Unfortunately macOS 13.3 also introduced a number of problems including: an issue with Universal Control and Handoff not working, Quick Look not working, and a problem with Home directories saved to an external storage device.
macOS Ventura 13.2.1, arrived on February 13 and included three critical security fixes, including one for a WebKit vulnerability that could lead to arbitrary code execution.
macOS Ventura macOS 13.2 arrived on January 23 and included 22 security updates (many critical fixes) and several new features and fixes including support for physical FIDO-certified security keys that were announced as part of the Advanced Data Protection for iCloud. Advanced Data Protection also comes to users outside the U.S. for the first time.
Apple also used the 13.2 beta to push the first Rapid Security Response updates to the Mac, which will allow Apple to push smaller, targeted releases are for security updates that arrive between full OS updates on Macs, iPhones, and iPads.
macOS 13.1 arrived on December 13, 2022 and brought with it a new app called Freeform and iCloud Advanced Data Protection. Other new features include the ability to use a Mac to make an AirTag to play a sound so you can locate it, an improved Home app, better search in Messages, and fixes for various issues.
That update came just over a month after macOS Ventura macOS 13.0.1, which arrived on Macs on November 9, 2022. The macOS Ventura 13.0.1 update included bug fixes and two security updates. The security updates includes fix for an issue where a remote user could cause unexpected app termination or arbitrary code execution.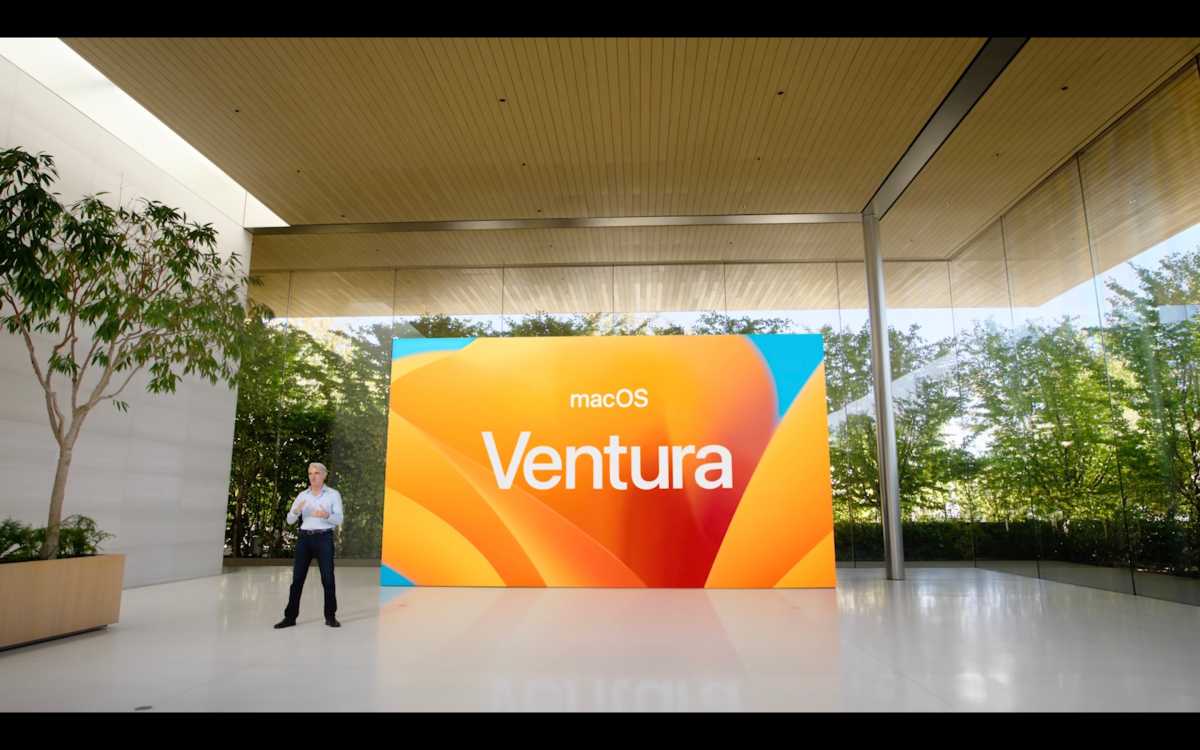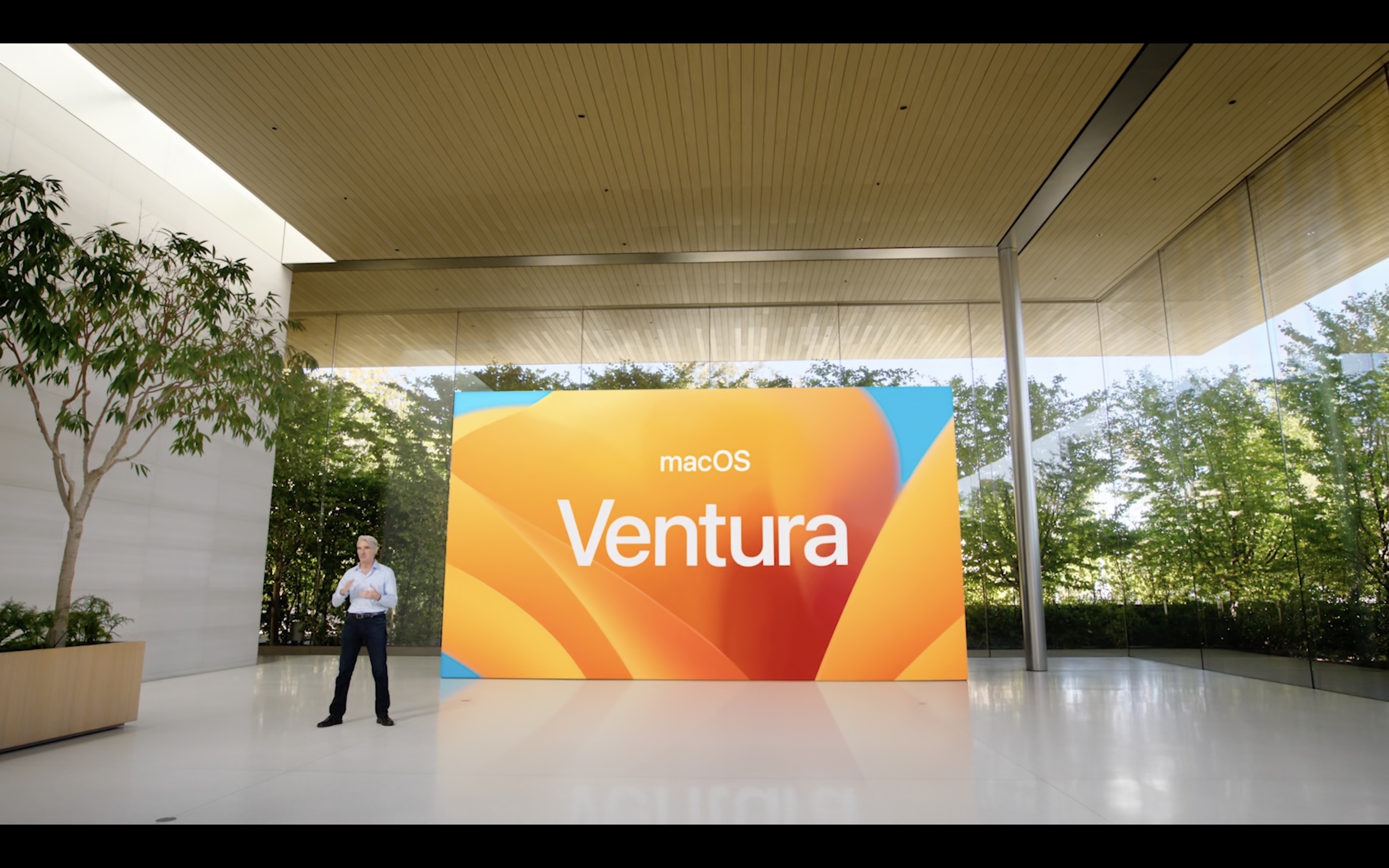 Next macOS Ventura update release date
macOS 13.4 is likely to be the last major update to macOS Ventura. Apple will be commencing the beta program for macOS 14 after the WWDC keynote on June 5. Any updates to macOS 13 will likely be restricted to security and bug fixes.
macOS Ventura: Latest beta version
Apple's beta testers will start looking at the beta of macOS 17 in June 2023. If you want to become a beta tester read: How to join Apple's beta program and try out new software and How to install the macOS beta.
macOS Ventura: Compatibility
The following Macs are supported by macOS Ventura:
MacBook models from 2017 or later
MacBook Air models from 2018 or later
MacBook Pro models from 2017 or later
Mac mini models from 2018 or later
iMac models from 2017 or later
iMac Pro (all models)
Mac Pro models from 2019 or later
Mac Studio (all models)
This means the following Macs, which were supported by Monterey, have now fallen off the list:
iMac (models from 2015)
MacBook Air (models from 2015 and 2017 models)
MacBook Pro (2015 and 2016 models)
Mac mini (2014 models)
Mac Pro (2013 model – cylinder/trash can)
MacBook (2016 model)
The 2014 Mac mini was sold until 2018, the 'trash can' Mac Pro until 2019, and the 2017 MacBook Air was sold until July 2019. We had thought that Apple wouldn't remove those Macs from the supported list, since people might have purchased the model just such a short time ago. At least they will still be supported by macOS Monterey for at least two more macOS generations. See: This is how long Apple supports Macs. To find out if your Mac will support Ventura read: macOS 13 Ventura compatibility: Can your Mac run the latest version?
Some of the Macs that are supported by Ventura may not support all the new functions. Read: New macOS features that will only work on the newest Macs.
Wondering how Ventura compares to Monterey? Read macOS Ventura vs Monterey.
macOS Ventura: Problems, bugs and issues
As issues and problems arise–and as Apple issues fixes–we will include them here.
Malwarebytes has flagged an issue with Ventura that it claims "disables security software", which appears to be related to the inability to grant Full Disk Access to the software. According to Malwarebytes "Apple is aware of the issue and has said that it will be fixed in macOS Ventura version 13.1." Malwarebytes does offer a fix for the problem.
A Wi-Fi bug is reportedly affecting some Mac users running macOS Monterey and Ventura, with M1 and M2 MacBook users complaining of lost Wi-Fi connections, slow internet performance in general, and dropped Zoom calls. This is according to San Francisco-based internet infrastructure provider Meter. More information here: Pesky Wi-Fi bug in M1 and M2 MacBooks is likely related to AirDrop.
macOS 13.1 fixes an issue that causes some notes not to sync with iCloud after updates are made.
macOS 13.1 fixes an issue where you may lose keyboard and mouse input in some apps and games.
Universal Control and Handoff broken for some users in macOS 13.3. Several users claimed that Universal Control between a Mac and iPad no longer works, and that Handoff is unresponsive as well.
Auto Unlock your Mac with Apple Watch may not work. Fixed in macOS Ventura 13.3.1.
Problem with Home directories not being saved to an external storage device. Fixed in macOS Ventura 13.3.1.
Issue where Auto Unlock with Apple Watch does not log you into your Mac. Fixed in macOS Ventura 13.4.
Bluetooth issue where keyboards connect slowly to Mac after restarting. Fixed in macOS Ventura 13.4.
VoiceOver issue with navigating to landmarks on webpages. Fixed in macOS Ventura 13.4.
Issue where Screen Time settings may reset or not sync across all devices. Fixed in macOS Ventura 13.4.
Various security flaws. Fixed in macOS Ventura 13.4.
macOS Ventura: Features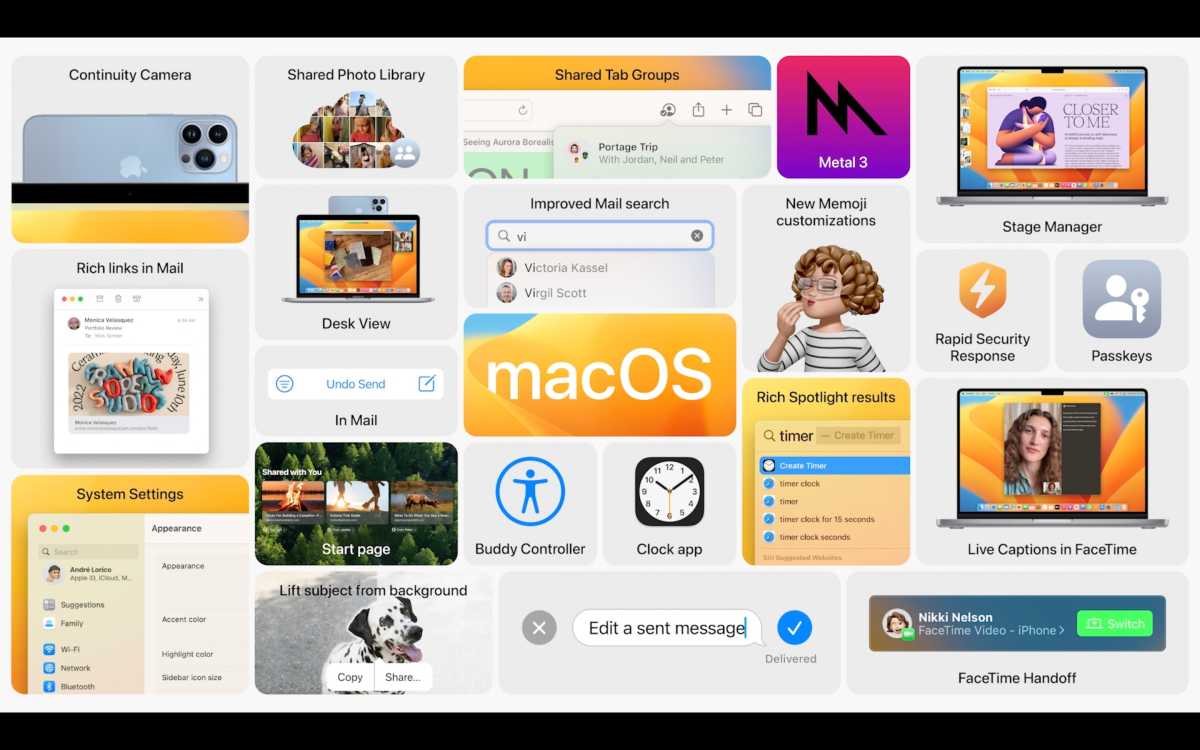 Stage Manager
Continuity continues to evolve with the introduction of Stage Manager – a new way to manage your desktop clutter that reminds us a little bit of Spaces, because it allows you to organize working areas and hide them away, albeit at the side of your screen, rather than the top. Here's how to use Stage Manager to organize your windows.
Continuity Camera
Another continuity-related feature allows you to use your iPhone as a webcam as well as Handoff a FaceTime call from your iPhone or iPad to your Mac. Continuity Camera is a great way to benefit from the superior camera on the iPhone. One really impressive feature is Desk View, which displays two views to the person you are calling – your face and your desk. Using the iPhone camera means that Mac users can benefit from features like Portrait mode and Centre Stage and the new Studio Light feature. Read about how to use your iPhone as a webcam for your Mac.
iCloud Shared Photo Library
You can now set up an album in Photos that lets you select up to five people that can all add photos and videos and quickly share them with each other. Here's how to set it up on your iPhone, iPad, and Mac.
Advanced Data Protection for iCloud
In macOS 13.1 Apple added more than 20 data categories protected using end-to-end encryption, including iCloud Backup, Notes, and Photos.
Spotlight
Apple's method to search your Mac – Spotlight – also received a revamp. Quick Look allows you to preview files and you can search photos by location, objects, people, and more. Live Text improvements mean that you will be able to search text within images and videos. Users will even be able to create a new document, start a timer, or more, from within Spotlight. More information here: How Apple has improved Spotlight search in Ventura.
Reminders
In macOS Ventura, Apple has added several new features to make Reminders more helpful. You'll be able to see your reminders grouped by time and date, you will be able to pin a list and save lists to be used as templates. Read about the new features in Reminders here: Reminders in macOS Ventura.
System Settings
System Settings is the new name for System Preferences. A name that iOS users will likely feel at home with. Read about how Apple has revamped System Preferences in macOS Ventura in our in-depth article. We also discuss Mac preferences that have a new location in Ventura's System Settings, including Storage, Hot Corners, Extensions, Mission Control, Appearance, Time Machine and Warranty Information.
Background noises
You can play soothing white noise on your Mac in Ventura, including the sound of rain, the ocean, or a stream. Read: How to play soothing white noise in macOS Ventura.
Gaming
Expect gaming on the Mac to truly take off (well Apple does anyway). Apple says that every new Mac will be able to run AAA games "with ease". Improvements in Metal 3, MetalFX Upscaling, and Fast Resource Loading API should benefit game developers.
AirPods
In macOS Monterey and earlier, users didn't get to control much of the AirPod's settings, but that's changing in Ventura. When Ventura launches users will finally get access to the full complement of AirPods settings, just like in iOS. Read more here: Full AirPods settings coming to your Mac.
macOS Ventura: App updates
Over the years at the same time as Apple has updated the Mac operating system it has also made changes to various apps that ship with the Mac, and we can expect more this year. Several new features are coming to Safari and Mail along with updates to Weather, the Clock, new accessibility tools (such as Live Captions).
Freeform
This is a brand new app that arrived in macOS Ventura 13.1 in December 2022. The Freeform app is a whiteboard app for the iPhone, iPad, and Mac that lets you work across devices and share sketches, notes, files, web links, documents, photos, video, and audio in real time.
Home
In macOS 13.1 Apple redesigned the Home app and improved performance.
Mail
Mail now has improved search, but probably the most anticipated feature will be the ability to cancel delivery of an email after clicking send (we imagine there is a time limit here) and also schedule sending an email. Both are features offered by third parties, but it's good to see them coming to Apple's email software. Read How to unsend and schedule e-mail in Apple Mail for more information.
There is some confusion over the inclusion of the Hide My Mail feature, which should mean that it isn't a requirement to share your email with third parties. Initially, Apple referred to the feature, but this has since been erased from the webpage describing email features in Ventura, at least in some countries. Hide My Email isn't new to Ventura – it arrived in Monterey in 2021, but in Ventura Apple was expected to extend it to third parties.
Messages
Like its iOS counterpart, Messages on the Mac will allow users to edit a message once sent and recover accidentally deleted messages.
In macOS 13.1 Apple improved search in Messages allows you to find photos based on their content, like a dog, car, person, or text.
Notes
In macOS 13.1 Apple improved collaboration in Notes by adding Participant Cursors so you can see live indicators when others are making updates in a shared note.
Safari
Passkeys will be generated as a more secure means of identifying you and are associated with Touch ID or Face ID. These will replace passwords. Apple claims that "Passkeys are unique digital keys that stay on the device and are never stored on a web server," therefore they are more secure because it is impossible to leak one, or for anyone to phish one from you.
You may like to read about what to expect from Apple in 2023 as well the latest information about iOS 16.